SILKYPIX is "RAW development software" that generates a high-resolution picture from the RAW data of a digital camera and offers accurate color from shadows through to highlights. This is pure made in Japan software. SILKYPIX corresponds to more than 610 different models digital camera and are supported from professional photographers and shutter bugs. SILKYPIX is selected as digital camera manufacturers' standard bundled software over the world. Since 2004 when we released "SILKYPIX series", we are always pursuing "High Quality Image" and SILKYPIX can represent it to customers.
High Quality Image
Noiseless and accurate color reproduction
Expressive gradation from shadows through highlights
Image processing engine specialized in high resolution to maximize the performance of digital cameras and lenses
Noise reduction to suppress it as much as possible even at high ISO sensitivity
Adjust JPEG or TIFF format close to the RAW data at high-quality
Easy-to-use
High speed processing at stress free in high pixel image
Simple operation guidance even for beginners easy to understand
Ready-to-use rich content of software manuals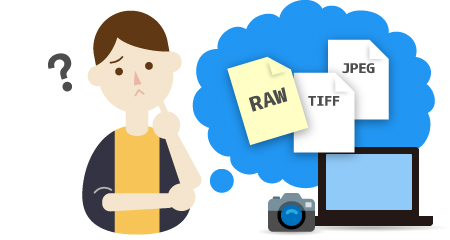 What is RAW development?
In digital single-lens reflex camera or same of digital compact cameras there is "RAW" file format as well as "JPEG" file format.
Generally well-known "JPEG" is a compressed image file format for general purpose and we can see it on PC as an image. But "RAW" format definition is different on each camera manufacturers. Therefore we cannot see it on PCs as it is.
Reference) The file extension is different on each camera manufacturers.
Canon

CR2

Nikon

NEF

PENTAX

PEF

Panasonic

RW2

OLYMPUS

ORF

FUJIFILM

RAF

SONY

ARW

general format

DNG
Now how can we see these "RAW" data as an image? To do it, "RAW" editing software like SILKYPIX series is needed. By this "RAW" editing software it generates high versatile "JPEG" image format, therefore we can see it on PCs. SILKYPIX call it process "RAW development".
By "RAW" development enjoying of photos will be diversified.
The critical key point is that "RAW" data contains huge information rather than "JPEG". Because of huge contained information it is the key to finish more beautiful photos.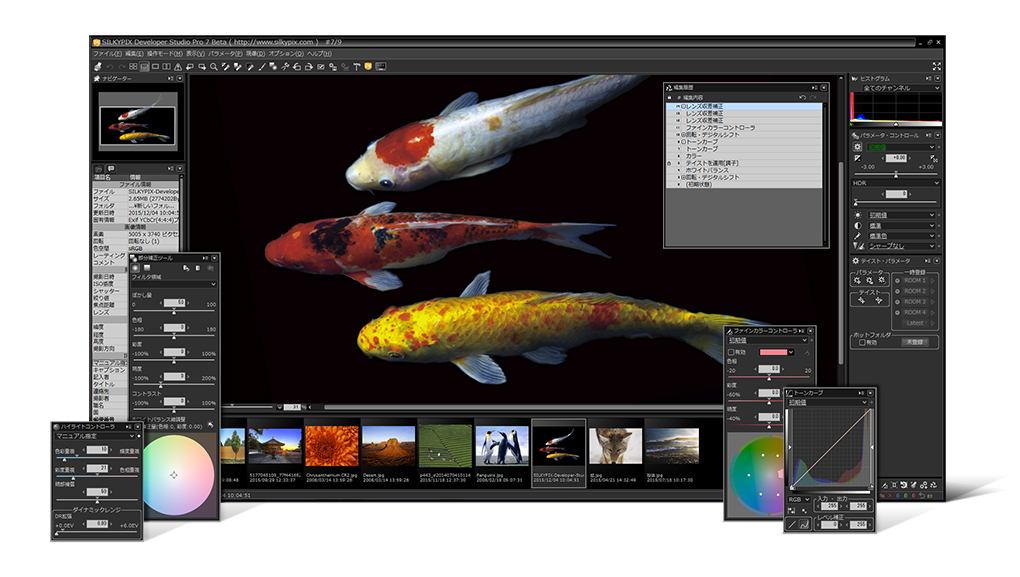 Professional Edition
The partial correction is equipped so that it can realize a more delicate photo of adjustment.
SILKYPIX Developer Studio Pro 7 is RAW development software for professionals to enable a partial color correction by circular / gradual filter, or equips with completely new sharpness from superior outline detection algorithm.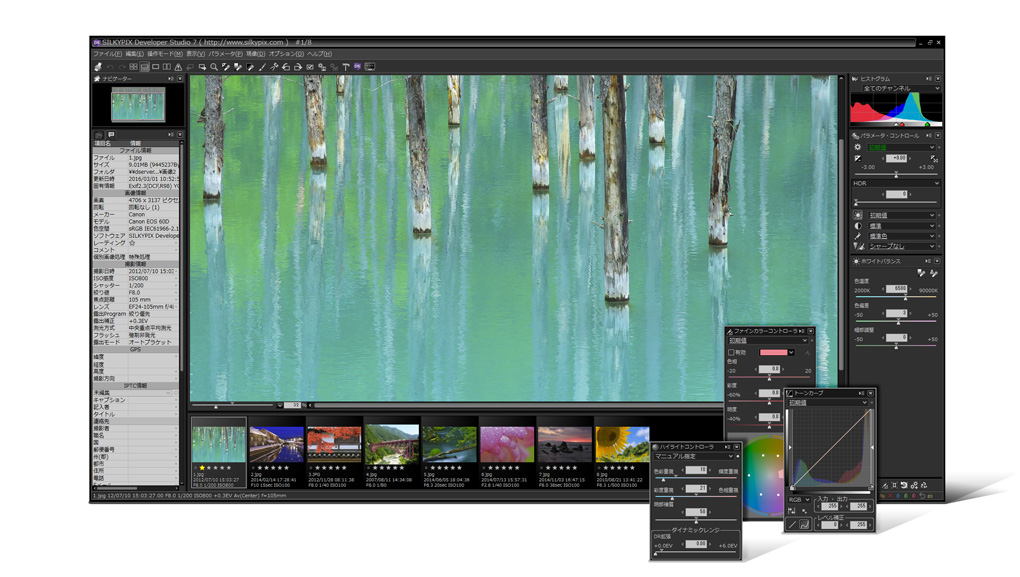 Standard Edition
Standard edition has been improved to obtains the new correction functions in addition to the basic functions.
SILKYPIX Developer Studio 7 has same image processing engine as a higher version Pro 7. This image processing engine relaize high resolution by "Natural sharp" and improve gradation on highlighting. Therefore, this product has achieved the high image quality, such as high color separation performance and excellent noise reduction. Further it has a powerful correction functions, such as dust removal function and dodging / HDR. SILKYPIX Developer Studio 7 is the new standard for easy-to-use RAW development software.