SILKYPIX is "RAW development software" that generates a high-resolution picture from the RAW data of a digital camera and offers accurate color from shadows through to highlights. This is pure made in Japan software. SILKYPIX corresponds to more than 700 different models digital camera and are supported from professional photographers and shutter bugs. SILKYPIX is selected as digital camera manufacturers' standard bundled software over the world. Since 2004 when we released "SILKYPIX series", we are always pursuing "High Quality Image" and SILKYPIX can represent it to customers.
High Quality Image
Noiseless and accurate color reproduction
Expressive gradation from shadows through highlights
Image processing engine specialized in high resolution to maximize the performance of digital cameras and lenses
Noise reduction to suppress it as much as possible even at high ISO sensitivity
Adjust JPEG or TIFF format close to the RAW data at high-quality
Easy-to-use
High speed processing at stress free in high pixel image
Simple operation guidance even for beginners easy to understand
Ready-to-use rich content of software manuals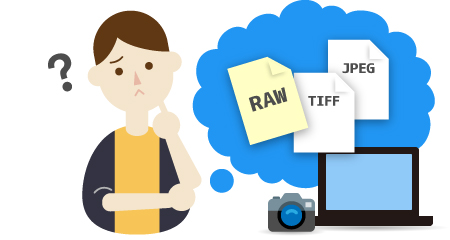 What is RAW development?
In digital single-lens reflex camera or same of digital compact cameras there is "RAW" file format as well as "JPEG" file format.
Generally well-known "JPEG" is a compressed image file format for general purpose and we can see it on PC as an image. But "RAW" format definition is different on each camera manufacturers. Therefore we cannot see it on PCs as it is.
Reference) The file extension is different on each camera manufacturers.
Canon

CR2

Nikon

NEF

PENTAX

PEF

Panasonic

RW2

OLYMPUS

ORF

FUJIFILM

RAF

SONY

ARW

general format

DNG
Now how can we see these "RAW" data as an image? To do it, "RAW" editing software like SILKYPIX series is needed. By this "RAW" editing software it generates high versatile "JPEG" image format, therefore we can see it on PCs. SILKYPIX call it process "RAW development".
By "RAW" development enjoying of photos will be diversified.
The critical key point is that "RAW" data contains huge information rather than "JPEG". Because of huge contained information it is the key to finish more beautiful photos.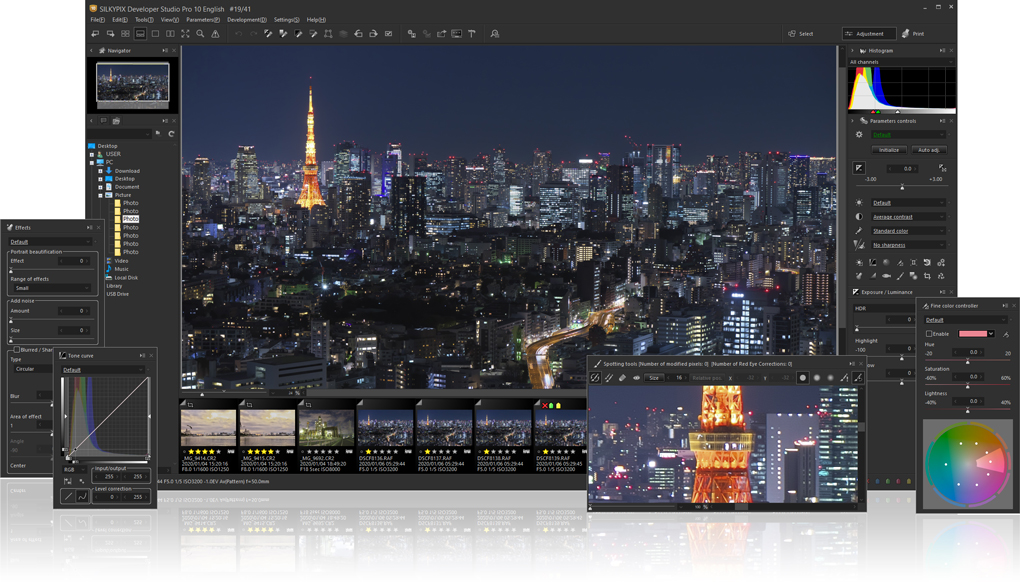 Professional version
SILKYPIX Developer Studio Pro10 is equipped with a new function for compositing multiple RAWs which enables the user a previously unprecedented level of creative photographic expression. The latest transformative enhancement to the software's capabilites is the "Fine detail" mode which enables the optimal noise reduction. In addition, the "Select" section enables high-speed display of a large number of high-resolution images. Professional edition of RAW development software with improved flexibility and ease of use.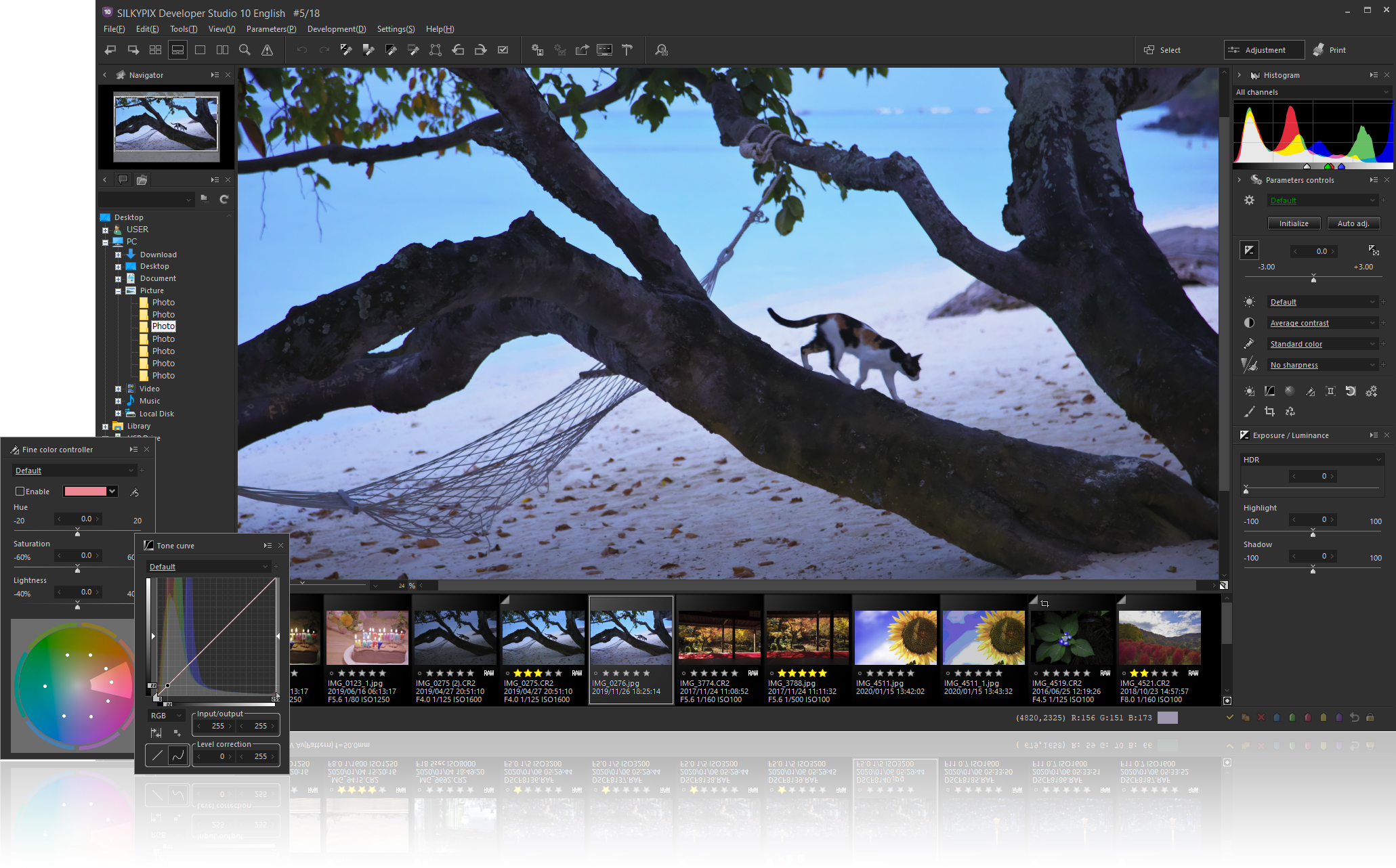 Standard version
"SILKYPIX Developer Studio 10" has not only basic adjustment functions such as Exposure, White Balance, Contrast, but also 67 types of tastes, new noise reduction "Fine detail" mode and correction functions such as the Perspective correction tool, the Negative film inversion tool. So, it is the standard edition of SILKYPIX series recommended for people of a wide range, from people who are going to start development and those looking for new RAW development software.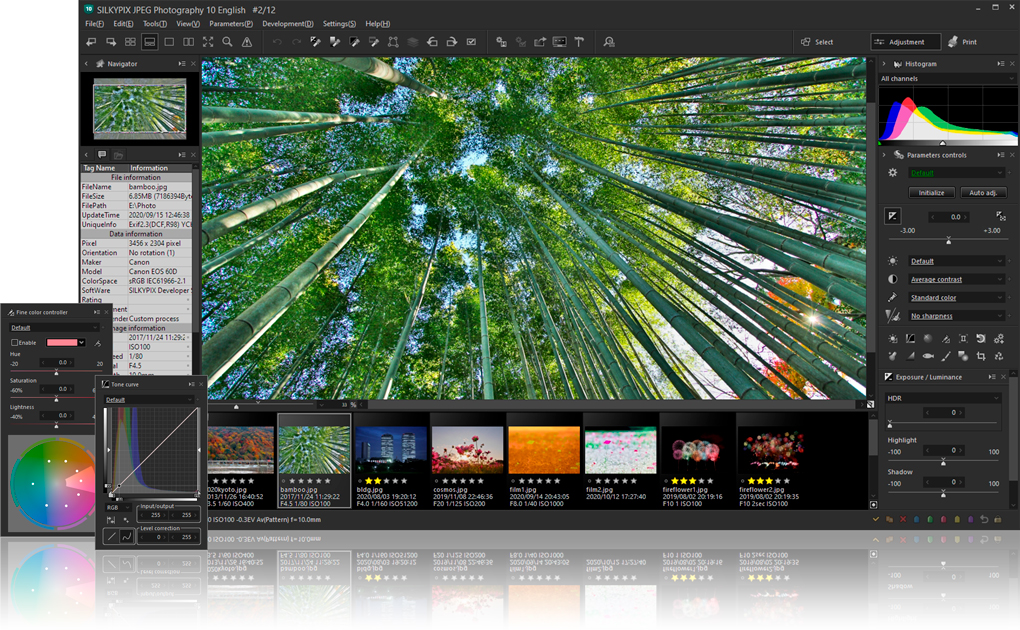 JPEG version
"SILKYPIX JPEG Photography 10" is the best image adjustment software as an adjustment tool to finish a nice-looking photo for blogs and SNS, and printing and finishing uncompromised works. The Composite function and a total of 66 preset "Tastes" make it possible to create new photo expressions. In addition, an ISL exclusive technology that allow you to adjust your JPEG images with high quality and a lot of adjustments, such as the Partial correction tool, that is able to correct designating areas, are strongly supported your creations.