SILKYPIX is "RAW development software" that generates a high-resolution picture from the RAW data of a digital camera and offers accurate color from shadows through to highlights. This is pure made in Japan software. SILKYPIX corresponds to more than 690 different models digital camera and are supported from professional photographers and shutter bugs. SILKYPIX is selected as digital camera manufacturers' standard bundled software over the world. Since 2004 when we released "SILKYPIX series", we are always pursuing "High Quality Image" and SILKYPIX can represent it to customers.
High Quality Image
Noiseless and accurate color reproduction
Expressive gradation from shadows through highlights
Image processing engine specialized in high resolution to maximize the performance of digital cameras and lenses
Noise reduction to suppress it as much as possible even at high ISO sensitivity
Adjust JPEG or TIFF format close to the RAW data at high-quality
Easy-to-use
High speed processing at stress free in high pixel image
Simple operation guidance even for beginners easy to understand
Ready-to-use rich content of software manuals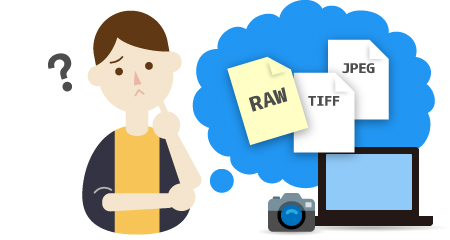 What is RAW development?
In digital single-lens reflex camera or same of digital compact cameras there is "RAW" file format as well as "JPEG" file format.
Generally well-known "JPEG" is a compressed image file format for general purpose and we can see it on PC as an image. But "RAW" format definition is different on each camera manufacturers. Therefore we cannot see it on PCs as it is.
Reference) The file extension is different on each camera manufacturers.
Canon

CR2

Nikon

NEF

PENTAX

PEF

Panasonic

RW2

OLYMPUS

ORF

FUJIFILM

RAF

SONY

ARW

general format

DNG
Now how can we see these "RAW" data as an image? To do it, "RAW" editing software like SILKYPIX series is needed. By this "RAW" editing software it generates high versatile "JPEG" image format, therefore we can see it on PCs. SILKYPIX call it process "RAW development".
By "RAW" development enjoying of photos will be diversified.
The critical key point is that "RAW" data contains huge information rather than "JPEG". Because of huge contained information it is the key to finish more beautiful photos.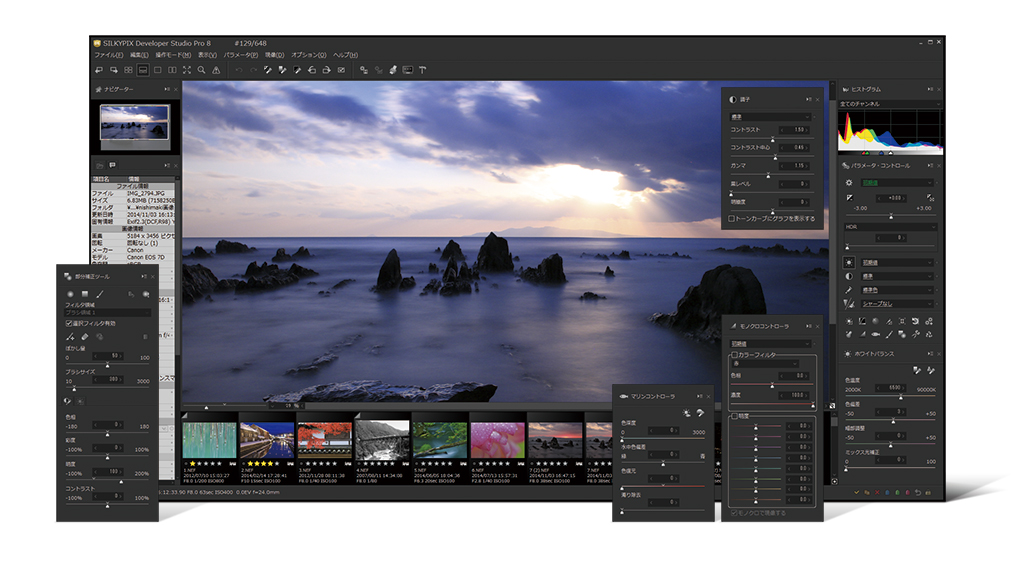 Professional version
Achieve rich adjustment function and comfortable operability.
SILKYPIX Developer Studio Pro8 adds "clarity" that enhances the texture with its own image processing technology. In addition, the correction function such as adding a brush function to the partial correction tool has been enhanced. This product is RAW development software for professional.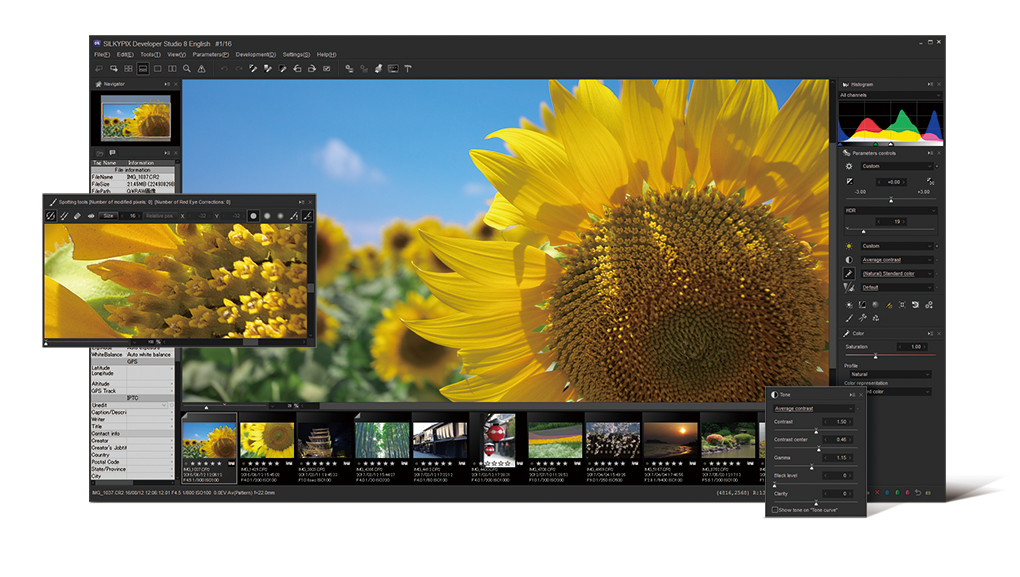 Standard version
Intuitively adjust images with easy operation.
"SILKYPIX Developer Studio 8" realized a low price as a function-limited version that narrowed down the functions of the professional version "Pro8". It is RAW development software excellent in cost performance that can make works easily and beautifully even for those who are challenged with RAW for the first time with excellent basic functions and easy-to-use interface.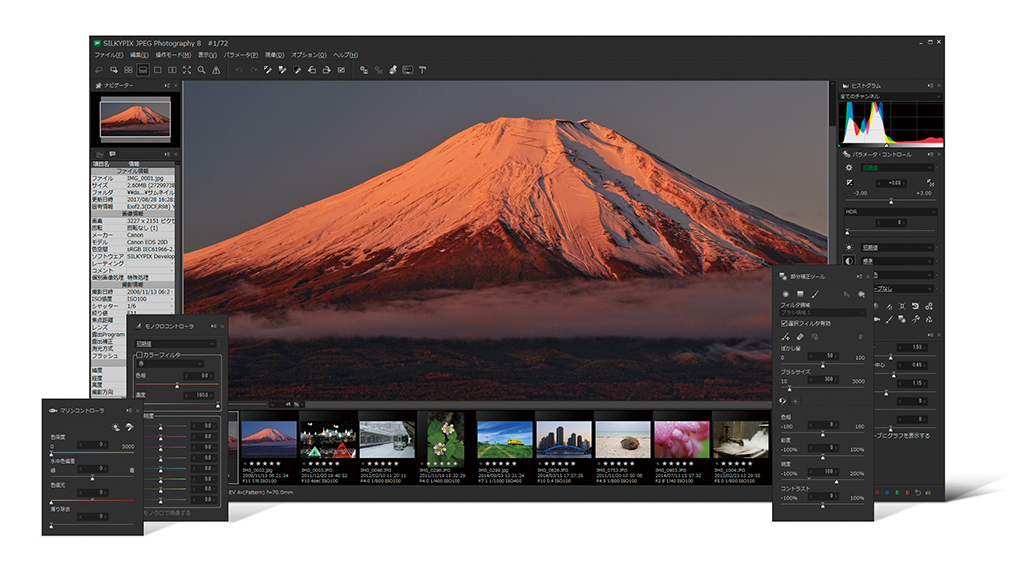 JPEG version
Achieve the highest quality in JPEG photography and image adjustment
With SILKYPIX JPEG Photography 8, you can release your creativity! Improve your JPEG photos taken with digital cameras, smart phones, and other devices. Use clarity tools to adjust sharpness, the freehand selection brush and other tools. Produce the high quality photo you imagined when you took your picture.