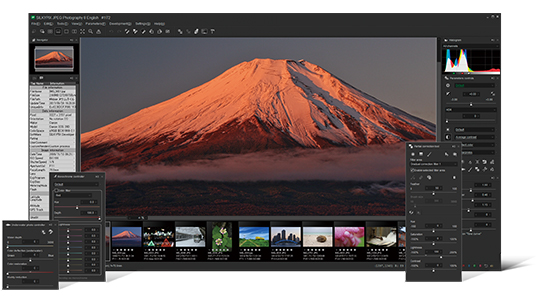 Ichikawa soft laboratory Co., Ltd. (Mihama-ku, Chiba-city, Chiba, Japan : Representative Director Yoshikuni Ichikawa) announces the release of digital image adjustment software SILKYPIX JPEG Photography 8 for Windows and macOS on September 13, 2017 (JST) on the ISL Online Store.
| | |
| --- | --- |
| Product name | SILKYPIX JPEG Photography 8 download version (Windows/macOS) |
| Release date | September 13, 2017 (JST) |
| Price | 5400 JPY (tax included) *see below |
| Purchasing site | ISL Online Store https://shop.isl.co.jp/?lang=en |
Introducing SILKYPIX JPEG Photography 8
SILKYPIX JPEG Photography 8 allows you to adjust JPEG data taken with digital cameras, smart phones, and other devices using its own logic engine SILKYPIX RAW Bridge. It is image editing software which adjusts brightness and color tone while maintaining gradation.
SILKYPIX JPEG Photography 8 includes clarity tools to adjust sharpness, an area selection brush tool for adjusting specific parts of the picture, and monochrome tools for black and white photography. You can produce the high quality photo you imagined when you took your picture.
SILKYPIX JPEG Photography Series Value Proposition
SILKYPIX RAW Bridge is an ISL own technology for high quality, precise control of the image enhancement and transformation process.
Although JPEG data uses 8 bit (256 gradations) gradation, it is automatically expanded to 16 bit (65,536 gradations) using SILKYPIX RAW Bridge. By treating JPEG data in a similar way to RAW data, high gradation rich image quality adjustment is possible. In addition, various functions such as exposure bias tools for adjusting the brightness of the picture, color correction, trimming, as well as spotting tools for removing flaws reflected by the sensor are also included. Finish your photo as you imagined.
Low Cost, Powerful JPEG Editing
"SILKYPIX JPEG Photography 8" includes all the functions of the SILKYPIX series professional RAW development software "SILKYPIX Developer Studio Pro8", but only supporting JPEG format, making it a flexible and affordable tool.
Easy Editing with Taste Presets
SILKYPIX JPEG Photography includes "tastes", a kind of preset that incorporates useful styles and forms. Choose a taste such as "Landscape" or "Portrait" to make a finished photograph easily that fits your image. In addition, you can save all of your custom, adjusted parameters as a taste preset. Parameters are very useful functions, and you can easily recreate themes and styles across any number of photographs you take.
Process multiple photos at once
If you work with multiple images at the same time (such as images shot with continuous shooting), and adjust the taste and parameters, you can make corrections for all selected images at once.
For example, even if you darken the exposure setting of the camera, if you select that picture and make correction, you can correct all the selected images at once.
Color management
SILKYPIX offers color management for monitor viewing or printing, including a "Printer proof" system that lets you simulate printed results from an ICC profile.
These features support a process from accurate editing for printing.
New features of SILKYPIX JPEG Photography 8
*SILKYPIX JPEG Photography 8 introduces new features not available in previous generations of SILKYPIX.
Clarity Adjustment
Increasing clarity improves details of the subject of your photo, so easy the Clarity Adjustment tool is effective when you have a photo with apparent haze. In contrast, by reducing clarity you can finish with a soft ambience like with a soft focus that is often desirable in personal portraits.
Partial Correction Brush Tool
Previous versions of SILKYPIX include two types of partial correction, but this release adds a brush tool for truly free hand selection of areas for correction. This is very useful when application of circular or gradual selections and corrections are not precise enough.
Monochrome Photography Dedicated Tools
The Monochrome Controller is a dedicated tool for monochrome pictures. Eight kinds of "Color filters" can be selected, and it is possible to reproduce filters when shooting monochrome photographs on your screen. In addition, since the "Lightness" can be adjusted for each hue, you can make a highly customized finish to your black and white photographs. Even beginners of black and white photography can easily switch between color and monochrome images after applying parameters in the preview display, so you will learn more about monochrome photography due to changes in color.
Underwater Photo Dedicated Tools
With the Underwater Photo Controller, you can correct bluishness or other color issues that can be challenging to address with many white balance correction tools normally used on other types of photos. This also includes color restoration parameters, which reproduces colors lost in water, as well as reduction tools to eliminate murkiness of water.
Focus Peaking
Automatically detect the area in your photo that your camera was focused on while shooting using a powerful SILKYPIX detection system based on adjacent pixels, and then indicate it on the photo for correction purposes. You can clearly and easily find and improve areas of focus.
Improved User Interface
SILKYPIX now has a cleaner, easier to navigate design that makes it easier to focus on what is important: improving your photos. Beginners and professionals will find the tools they need faster and adjustment functions easier to use. You can also change the background color to suit your tastes.
New function / Improvement list
Tone – Clarity slider addition
Partial correction tool – brush addition
Monochrome controller
Underwater photo controller
Warning indication – Focus peaking addition
Preview display Select background color
Choose Rating Display / Non-display under the thumbnail display
Improved User Interface
One License Can Be Used on Three Computers
SILKYPIX JPEG Photography 8 download version (Windows/macOS) license price
Regular list price
| | |
| --- | --- |
| New license | 5400 JPY (tax included) |
* You can install SILKYPIX JPEG Photography 8 to three different PCs/Macs.
Special Introductory Sale of SILKYPIX JPEG Photography 8 (Until October 31, 2017)
In celebration of the launch of SILKYPIX JPEG Photography 8 at the ISL Online Store, purchase SILKYPIX JPEG Photography 8 download version at an introductory low price from release through October 31st 2017 (JST).
Special price
| | |
| --- | --- |
| New license | 3780 JPY (tax included) |
For more information on purchase and campaign, click here
https://shop.isl.co.jp/user_data/campaign-jp8-launch-sales.php?lang=en
System requirements
Windows
macOS
OS
Microsoft® Windows® 10 / 8.1 / 7 (64 bit recommended)
* It does not correspond to the Windows® 10 tablet mode.
macOS® v10.6.8 – v10.12
CPU
Intel® Pentium® 4 or later / AMD Athlon 64 or later (64 bit support recommended)
Intel® Core 2 Duo or later is recommended (64 bit support required)
Memory
4GB or more (Recommended 8GB or more)
4GB or more (Recommended 8GB or more)
HDD
10GB or more of free disk space
10GB or more of free disk space
Display
XGA (1024×768), Full Color (24 bit or higher)
XGA (1024×768), Full Color (24 bit or higher)
SILKYPIX® is a registered trademark by Ichikawa Soft Laboratory Co., Ltd.
Windows® is a registered trademark by Microsoft Corporation.
macOS® is a registered trademark by Apple Inc.
Intel® and Pentium® are registered trademarks by Intel Corporation.
Other listed Company name and product names are registered trade mark by each company.
Contact
| | |
| --- | --- |
| Company name | Ichikawa soft laboratory Co., Ltd. |
| Location | Makuhari Techno garden Bldg. CD5F, 1-3, Nakase, Mihama-ku, Chiba-city, Chiba 261-8501 Japan |
| E-mail | info_english@isl.co.jp |