Ichikawa soft laboratory Co., Ltd. (Mihama-ku, Chiba-city, Chiba, Japan : Representative Director Yoshikuni Ichikawa) has released digital RAW development software series "SILKYPIX Developer Studio" latest version "SILKYPIX Developer Studio Pro7 Beta (Win/Mac) Japanese" at free.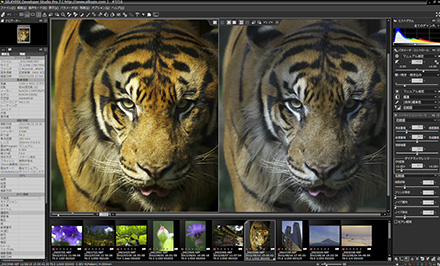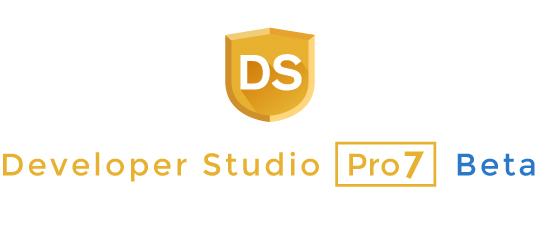 Major features of SILKYPIX Developer Studio Pro7 Beta (Win/Mac)
Significant improvement of gradation
By improving the development engine, "Color representation" and "Gradation" in highlight part have been improved significantly. It is implemented by further deeply analyzing the information of RAW data and achieved the extension of the dynamic range in developing processing level.
Obtain Circle/Gradation correction filter (Tentative name)
It becomes a partial color correction for the specified area. For example, Partially if you want to change the brightness and white balance, you can easily specify the intuitive area and correct it. In many whiteout or crushed black scenes or two or more different colored light sources in the photo, you can correct these cases by specifying areas. It enable to implement the correction which was not carried out by the conventional SIKLYPIX series.
New type sharpness (Natural sharpness)
New type sharpness (Natural sharpness) which improve the descriptive power of details significantly is obtained. It improves the resolution with reducing the side effects of sharpness "Pseudo outline" which borders the outline. And, newly "Bokeh-aji preservation" sider has been obtained. It reduces the side effects that blur becomes unnatural in out-of-focus parts when strengthened the sharpness and emphasis the noise.
L tone curve implements vivid high-key representation
In RGB tone curve when correction bright the brightness with the tone curve, colors are reproduced whitish at the same time. This is because the color is linked to the brightness in RGB processing. "L tone curve" implemented in SILKYPIX Developer Studio Pro 7 tone curve can maintain the color even if changing the brightness. "L" means "luminance" and it is possible to adjust only the luminance information in the L-curve. Due to this function, it will remain color and vividness of the subject even if in high-key finish. This is useful function in the subject that soft expression such as a portrait is preferred.
Support rating in photo image
Some of customers may have with a rating (typically a star mark) at the selection to OK cut to the camera side of the operation on the LCD monitor during shooting. It is available to be reflected the rating set in the camera conjunction with SIKLYPIX. Also it is possible to edit these rating in SILKYPIX Developer Studio Pro 7.
About commercialization of SILKYPIX Developer Studio Pro7 Beta
Regarding to the commercialization of SILKYPIX Developer Studio Pro7 Beta, product release date and list price is not fixed yet. We will announce at SILKYPIX web site when we decide the details on another occasion.
Introduction of free version up campaign to SILKYPIX Developer Studio Pro7
With the notice of SILKYPIX Developer Studio Pro7 Beta, if customers purchase current version SILKYPIX Developer Studio Pro6 license at ISL Online Store from November 26 2015 to official product release date, we will send new license of SILKYPIX Developer Studio Pro7 after released date at free with mail. Currently, please purchase with confidence who are considering SILKYPIX Developer Studio Pro6.
* We will send a license within a week to registered mail address after the product is released.
* This campaign might be terminated without notice.
Features of the SILKYPIX Sereies
"SILKYPIX Developer Studio" is software for developing high quality pictures as you imagine from RAW data shot on digital cameras.
What kind of high quality images can you obtain by using the strong capabilities on your computer? Some of the demerits specific to digital cameras that were thought to be inevitable, for example, unnatural edges on high chroma color borders, false colors on portions with a fine structure and color noise in highly sensitive shots, have thoroughly been brought under control, resulting in both higher resolution and color distinction. The name SILKYPIX comes from our aim to produce silky smooth natural photographs.
Contact
| | |
| --- | --- |
| Company name | Ichikawa soft laboratory Co., Ltd. |
| Location | Makuhari Techno garden Bldg. CD5F, 1-3, Nakase, Mihama-ku, Chiba-city,Chiba 261-8501 Japan |
| E-mail | info_english@isl.co.jp |