Ichikawa Soft Laboratory Co., Ltd. (Mihama-ku, Chiba-city, Chiba, 261-8501 Japan : Representative Director Yoshikuni Ichikawa) has released additional function "Photo style/Camera color" which supports Panasonic digital camera color creation into RAW development software SILKYPIX series*1.
"Photo style/Camera color" function can reproduce a color creation in SILKYPIX set up by Panasonic digital cameras, and user can select same color representation in SILKYPIX as in Panasonic. By this additional function the compatibility between Panasonic digital cameras and SILKYPIX has been improved.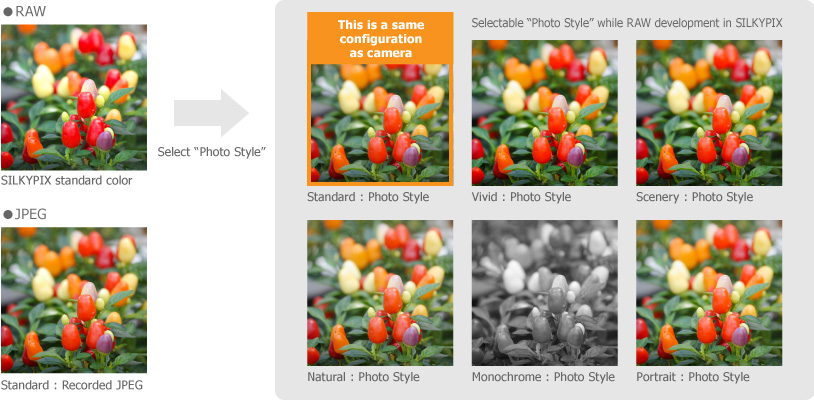 Photo Style

You can select "Photo Style" at RAW development in case a part of Panasonic digital cameras, and when it is installed to reproduce color mode for suiting the scene.

Camera Color

"Photo Style" function is not installed, it becomes the standard color reproduction of the relevant digital cameras.
Following models support "Photo Style" as of September 1, 2015.
[Panasonic]
AG-GH4 / DMC-LX100 / DMC-FZ1000 / DMC-CM1 / DMC-G6 / DMC-G7 / DMC-G70 / DMC-GF6 / DMC-GF7 / DMC-GH3 / DMC-GH4 / DMC-GM1 / DMC-GM1S / DMC-GM5 / DMC-GX7 / DMC-GX8
Following models support only "Camera Color" as of September 1, 2015.
[Panasonic]
DMC-TZ60 / DMC-TZ61 / DMC-TZ70 / DMC-TZ71 / DMC-ZS40 / DMC-ZS50
*1 Following SILKYPIX support "Photo Style / Camera Color"
SILKYPIX Developer Studio Pro6 (Ver.6.0.23)
SILKYPIX Developer Studio 6 (Ver.6.1.23)
Here is the download site
http://silkypix.isl.co.jp/download/
About Ichikawa soft laboratory Co., Ltd.
We offer great impression and dreams to people in the world through the software.
This has been our company slogan since the company started in 1988. We are graphic software development and selling company. Especially we are focusing on three major business domains which are main consumer products such as RAW development software SILKYPIX, education software market, and outsourcing business of enterprise software market. We have significant achievements in bundled software for digital cameras and printers including overseas. Ichikawa Soft Laboratory captures users' satisfaction by pursuing insatiable of state-of-the-art technology and quality. These are our outstanding company feature that other companies do not have.
Product feature of SILKYPIX series
"SILKYPIX Developer Studio series" is a RAW development software which corresponds to more than 500 different models digital camera. SILKYPIX thoroughly suppress unnatural edge in the color boundary, false color ride to the fine structure part, and color noise in high-sensitivity shooting. Also it satisfies both demand for high resolution and high color separation performance. We are aiming a smooth and natural photo image like a silk. This is the origin of the name of SIKLYPIX.
Contact
| | |
| --- | --- |
| Company name | Ichikawa soft laboratory Co., Ltd. |
| Location | Makuhari Techno garden Bldg. CD5F, 1-3, Nakase, Mihama-ku, Chiba-city,Chiba 261-8501 Japan |
| E-mail | info_english@isl.co.jp |