The partial correction tool for correcting the designated area
Circular correction filter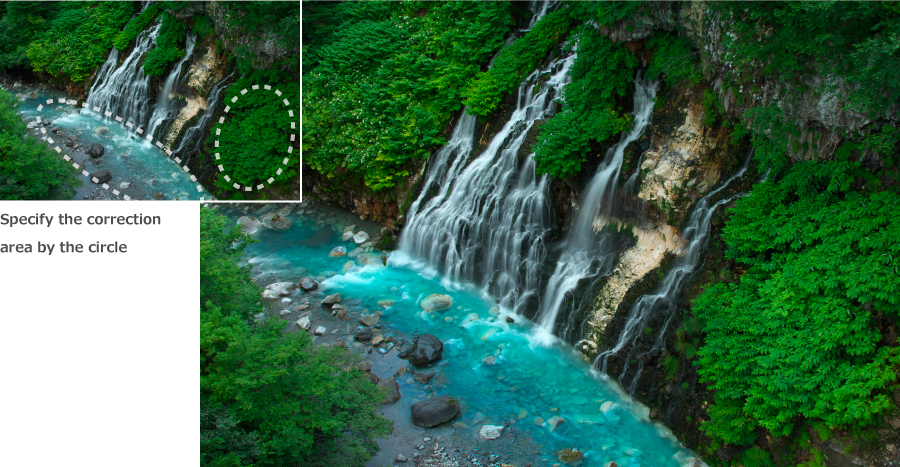 In the preview window you can correct below items to the designated circle or oval area.
[Hue] – [Saturation] – [Lightness] – [Contrast] – [White balance]
Gradual correction filter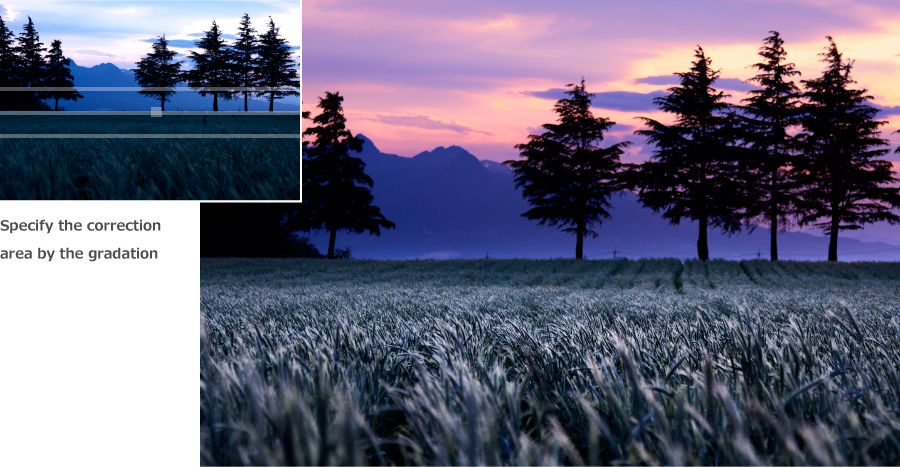 In the preview window you can correct below items to the designated graduation area.
[Hue] – [Saturation] – [Lightness] – [Contrast] – [White balance]
You can use the gradated correction filter like as a half-ND filter by changing the exposure in the horizon or horizontal line.
Improved gradation on highlighting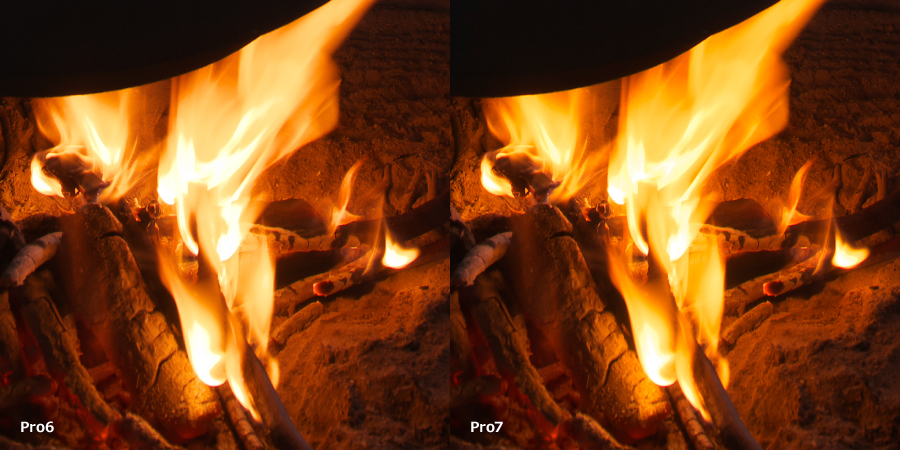 In the highlight or high saturation part the limit of overexposure has increased and rich gradation has been realized.
– The deviation of the hue in highlight (color fall over) has been suppressed as usual.
– The color connect in the overexposed portions and the vicinity of contour part where the gradation remains has been improved.
Improved highlight recovery during the exposure desensitization processing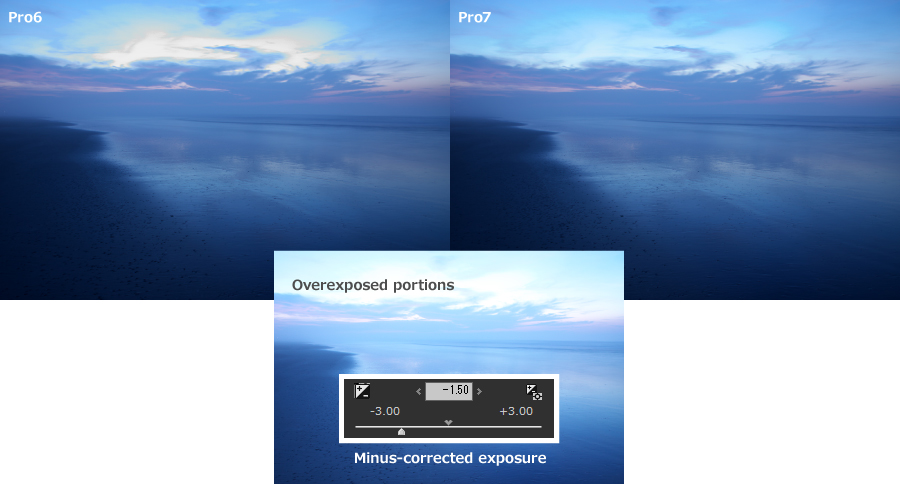 In the initial status RAW data also have the information of color and tone even in the overexposure area. It will be restored by exposing the dark correction during RAW development (desensitization). In SILKYPIX Developer Studio Pro7, when you correct to underexposure, you can increase the amount that can be restored overexposure and expand the range that can be desensitized.
New type sharpness (Natural sharp)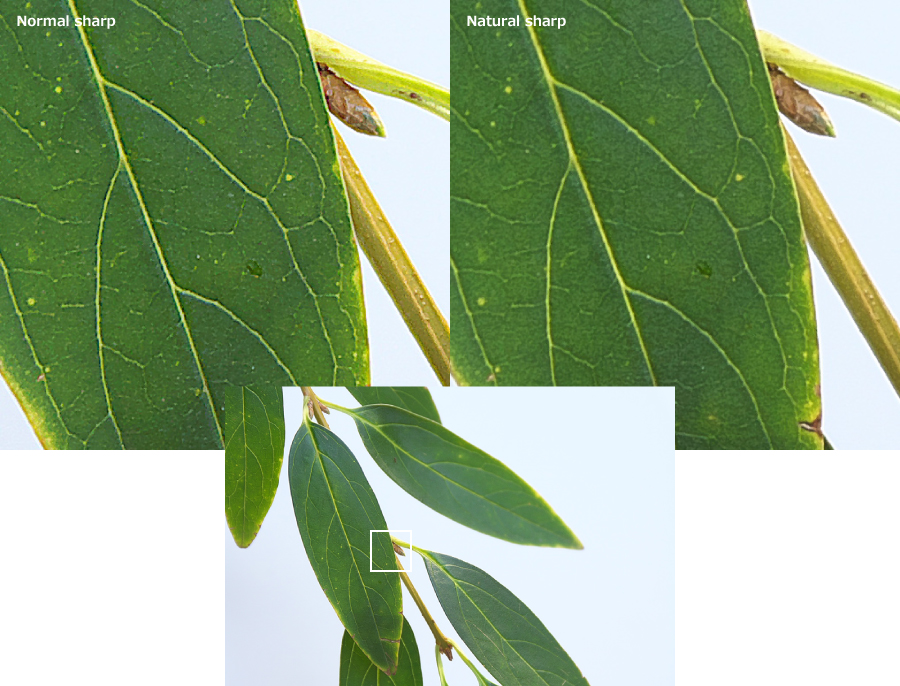 New type sharpness (Natural sharp) which improve the descriptive power of details significantly is obtained. It improves the resolution with reducing the side effects of sharpness "Pseudo outline" which borders the outline.
And, newly "Bokeh preservation" has been obtained. It reduces the side effects that blur becomes unnatural in out-of-focus parts when the sharpness is strengthened or the noise is emphasized.
L tone curve "Luminance tone curve"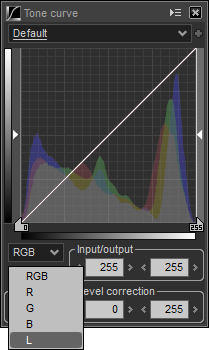 L channel has been added to the tone curve. By correcting the tone with general RGB composite tone curve, color along with the brightness will also change. Because you can adjust only the tone of brightness with the L Tone Curve, color omissions are decreased, as are changed in chroma, for example even when using high key or high contrast. At a portrait or macro photography of flowers having a lot of blur, you can achieve both of soft and vivid expression that have not been done before.
Example of high-key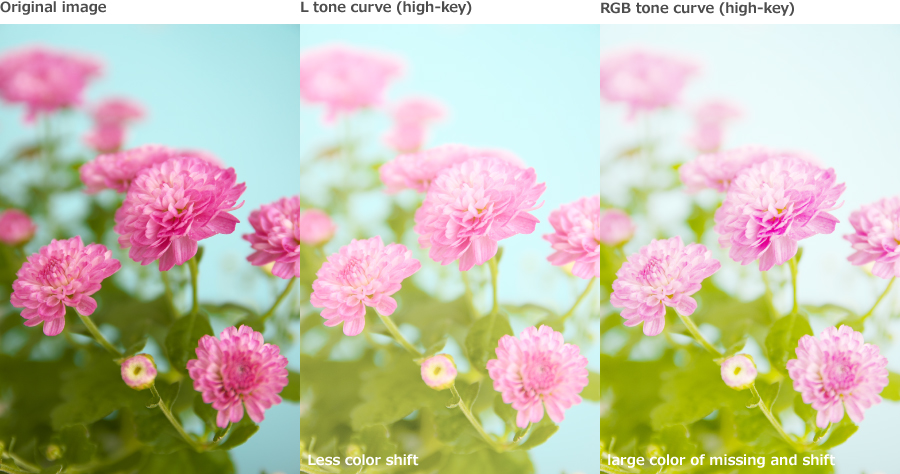 Example of high contrast