The popularity function "clarity" becomes adjustable!
"Clarity" which is the latest function installed in Pro 8 for the first time is also installed in the standard version. Increasing the effects of "Clarity" will make it possible to finish the details of the subject in a bold picture, so it is effective when you want to finish bold scenes with a hazy surrounding. In contrast, by lowering the "Clarity" you can finish with a soft ambience like with a soft focus, so you can use it to effect with women and children's photography.
Example of increasing "Clarity"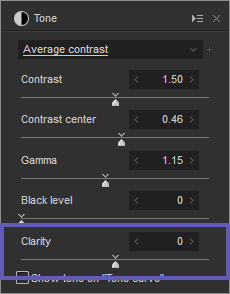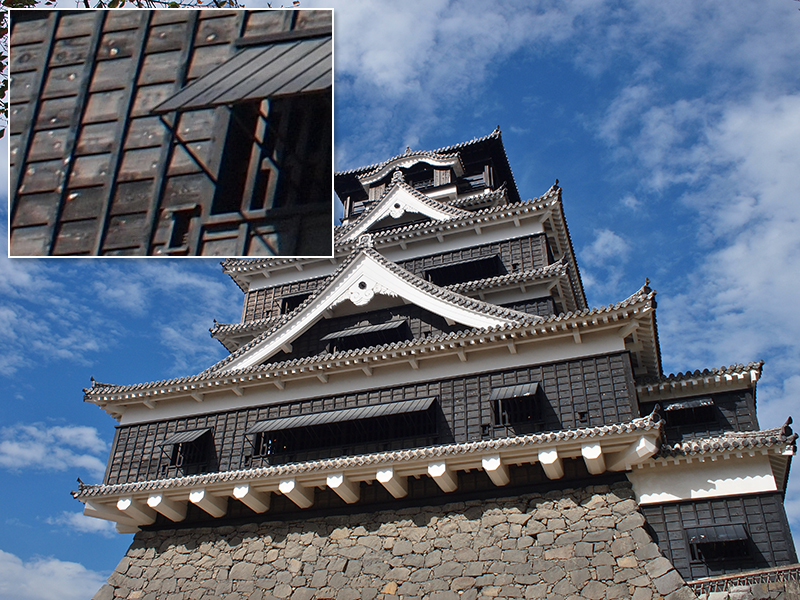 Example of lowering "Clarity"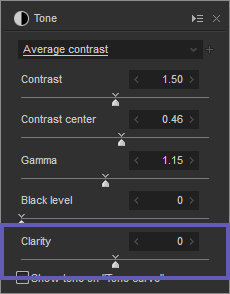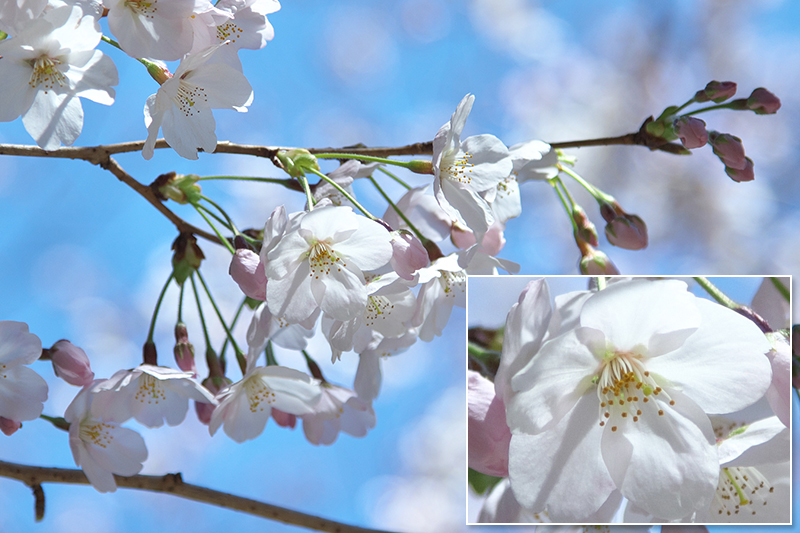 Dodge and Color Burn can be individually adjusted.
In opened RAW, RAW data contains information of whiteout or crushed black. SILKYPIX Developer Studio 8 pick up information of light and dark parts at maximum level from one page RAW data. Adjustment is controlled by only slider. It makes easy and complete work within short time. "Dodge" is brighten the dark area. "Color Burn" is darken the bright area.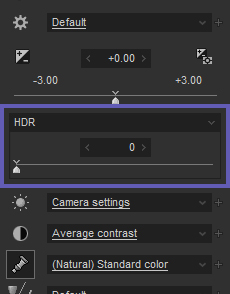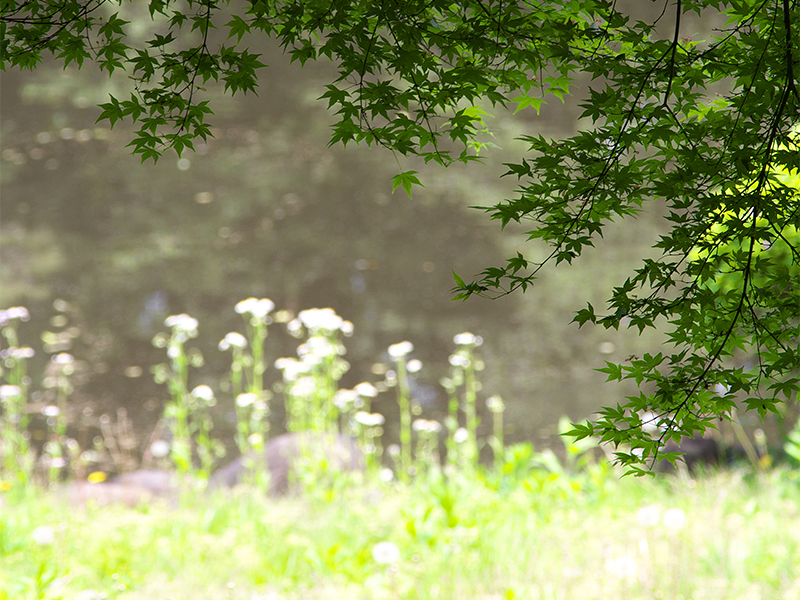 "HDR – Dodge" and "HDR – Color Burn" can express the effect more strong effect than "Dodge" and "Color Burn".
Printer proof
SILKYPIX obtains color management in monitor or printing, also simulation function "Printer proof" which simulates the color on the monitor close condition in printed result by specifying the ICC profile. These features support a process from accurate editing to printing. Please use this to check the influence on color management processing on your monitor.
*It must be an environment where the monitor is color managed."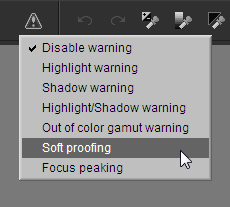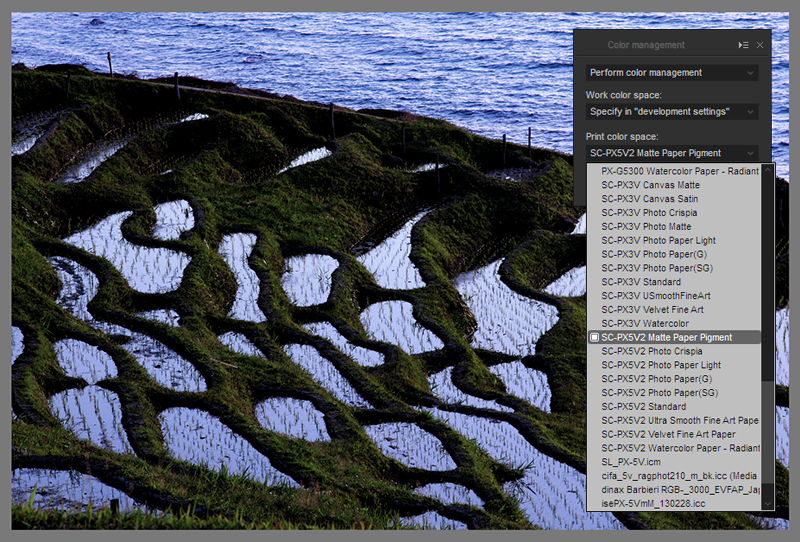 Focus Peaking Function Installed
A Focus peaking function has been installed to detect the parts focused on from adjacent pixels in the image, and to display them with colors added to those parts. With this function, you can clearly check the area of focus.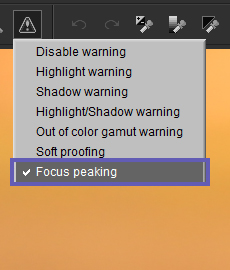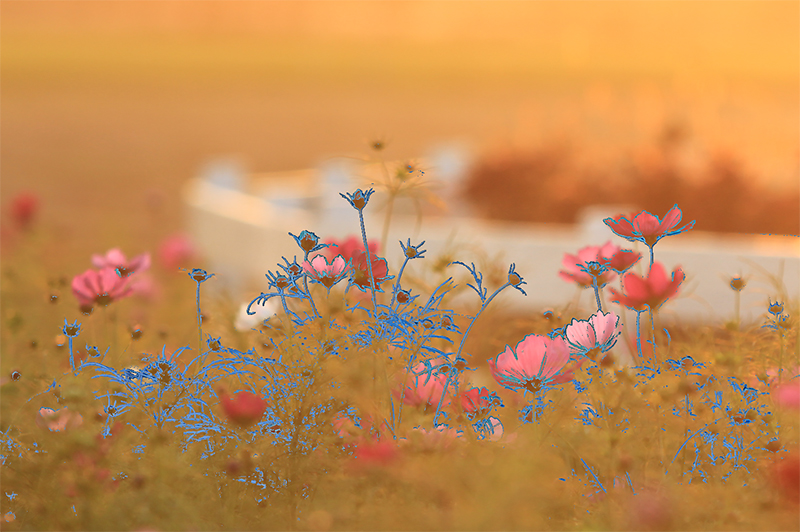 Supports SIGMA dp Quattro series X3F file (RAW format)*1
SILKYPIX Developer Studio 8 has supported the SIGMA dp Quattro series X3F file (RAW format) equipped with Foveon X3®*2 sensor. With the SILKYPIX image engine color expression and various adjustment tools, the range of possibilities for creative expression in the SIGMA dp Quattro series X3F file (RAW format) expands.
Supported Cameras: SIGMA dp0 Quattro, dp1 Quattro, dp2 Quattro, dp3 Quattro
*1 It is only supported for 64 bit OS.
*2 Foveon X3® is a registered trademark by Foveon Inc.

Improved User Interface
We have improved the design to be clean and simple to make it possible to concentrate on adjusting images. In addition, the layout has been changed to make it easier to understand for those using adjustment functions for the first time. Also, you can now change the background color of the preview display according to your preference.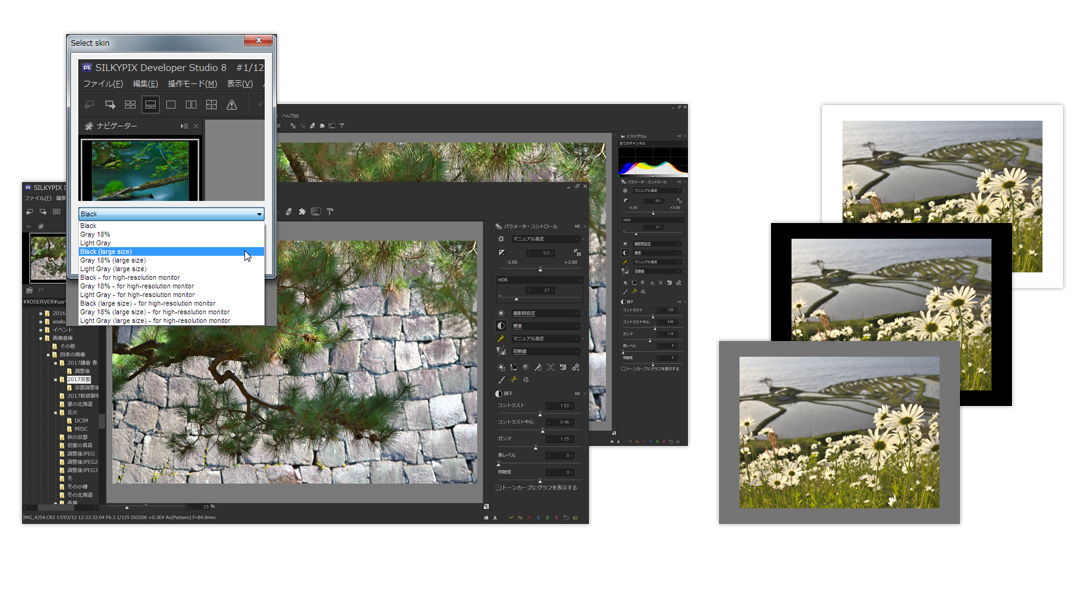 One License Can Be Used on Three Computers
In recent years, more and more people own multiple computers, such as desktops, laptops, tablets, etc., sometimes using both Windows and macOS. With such changes in the industry, "SILKYPIX 8" is now available for use on three computers with one license.
The new function described on this page is the latest function with the Standard version.
All functions of SILKYPIX Developer Studio 8 are put on the professional version "Pro8."