Original image processing engine for pursuing "High Quality Image"
Same basic features as upper Pro series which implements basic adjustment keeping high gradation equipped with high quality RAW development engine

SILKYPIX Developer Studio 6 which obtains the latest version of RAW development engine can implement basic adjustment at high quality such as exposure bias, white balance and tone curve. Even after editing photo data SILKYPIX can keep beautiful gradation from highlight to shadow.
Exposure bias
Adjustable from -3EV to +3EV at 6 levels by slider.
Automatic exposure (evaluative metering) installed it is useful in huge volume operation.
White balance
Taste function which can set a white balance by only selecting the light source when taking photos.
Auto white balance can correct color cast with high accuracy by original light source search algorithm.
White balance picker can set white balance by selecting gray or skin color.
Tone
Implementing a good gradation ties with picking up the information as much as possible in RAW data tone setting such from the soft contract worrying about a tone jump to the strong contract.
Finely configurable in each tone such as the luminance correction of halftone or black level.
Support JPEG or TIFF in addition to RAW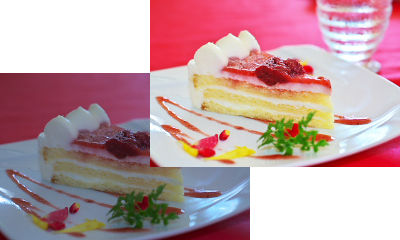 RAW data processing is a matter of course, and customer can edit JPEG image data, imported data from scanner or TIFF data which is generated by other company RAW development software same as RAW data. [SILKYPIX RAW Bridge] converts JPEG or TIFF to close RAW data internally and it is our original technology. Thereby customers can edit photo image data with same operation as RAW development more easily than popular photo-retouching software.
Versatile adjustment functions to complete photos
Maker taste can convert the color by simply selecting it closer to the image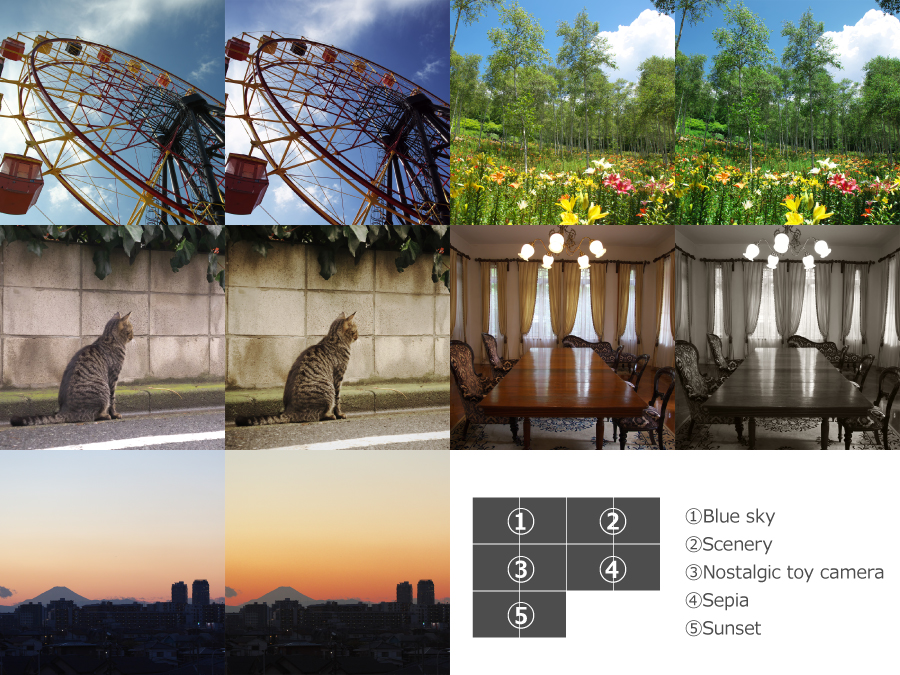 Maker taste
Super neutral
Fine street
Landscape
Nostalgic toy camera
Red enhancer
Portrait
Blue sky
Sunset
Sepia
Instant film
SILKYPIX Developer Studio 6 has a preset so called [Taste]. This is a feature to complete the image close to the final by simply selecting a finish of choice from the menu. It is more simple work by converting color into favorite one with [Taste] at first and please conduct fine adjustment as a next step.
By picking up one page RAW data information and implement high level dynamic range

In opened RAW, RAW data contains information of whiteout or crushed black. SILKYPIX Developer Studio 6 pick up information of light and dark parts at maximum level from one page RAW data. Adjustment is controlled by only slider. It makes easy and complete work within short time.
HDR
HDR automatically analyze shadowed and highlighted area from one page photo. By reproducing luminance in shadowed area and darkness in highlighted area, it can represent photo image with less whiteout and crushed black even in large scenes of the contrast. HDR can represent high dynamic range beyond the human vision.
Dodge Functions / Color Burn
Same as HDR automatically adjust shadowed and highlighted area, it can represent photo image with less whiteout and crushed black. Dodge Functions / Color Burn can represent natural high dynamic range close to the human vision.
Free tone control tailored to the photo by tone carve and automatic level correction

By tone curve it can adjust the delicate tones to match the photo. And automatic level correction automatically recognizes the photograph's histogram and sets the level for shadowing and highlighting. When lighting conditions are weak (low contrast) scene, you can put a sharp on the photo. Also you can control the color since it is possible to adjust apart from RGB.
Automatic and high quality originally developed noise reduction algorithm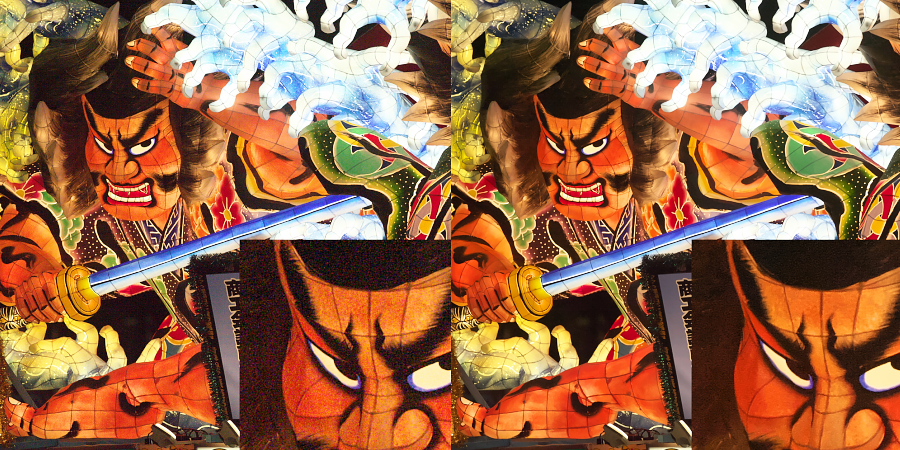 Noise reduction algorithm of SILKYPIX Developer Studio 6 has implemented both to have a noise removal effect and side effects that photo is blurred at high level. By this you can increase the common ISO sensitivity, even if you are using the same camera.
To suppress hand shake or subject blur that also lead to image quality deterioration, it is effective to fast the shutter speed with increasing the ISO sensitivity.
Adjustment free dynamic default function
It is a little bit difficult to adjust noise reduction and required an experience. Then, SILKYPIX Developer Studio 6 has [Dynamic default] function which apply automatic and suitable noise reduction referring photo data information such as ISO senility. Therefore you do not need to adjust a noise and even beginner can have high quality image data only by using SILKYPIX.
Noise reduction of SILKYPIX series process a lot of information included in RAW data with utilizing PC computing power at maximum. Therefore it is able to obtain a high image quality can not be realized by a digital camera.
Also, noise reduction has a function to alleviate the fringe.
Chose favorite color by selecting only color creation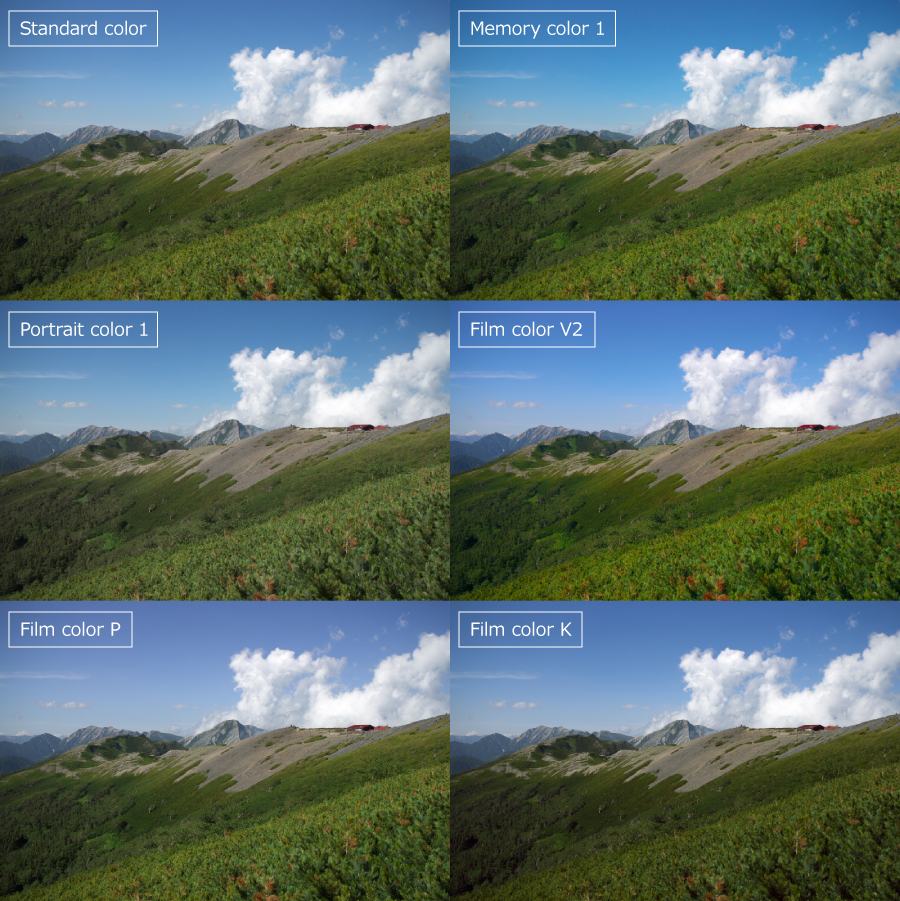 As you select films, by only selecting color representation mode you obtain 13 different color mode which make your favorite color.
Color mode
Standard color : This is a standard color representation of SILKYPIX series.
Memory color (2 types) : It is colorful color representation mode such as landscape photo.
Portrait color (3 types) : It is a color representation mode for portrait photo.
Film color (5 types) : It is a color representation mode, such as the positive film.
Monochrome (2 types) : It is a color representation mode to be converted to monochrome.
It brings out the personality by delicate adjustable fine color controller corresponding to each one.

It is obtained a fine color controller that can be easily adjusted for each "Hue", "Saturation", "luminance" for each divided into eight colors. You can control each color delicately such cases that without changing the vividness of the entire photo you want to express a darker sky just as with a PL filter or emphasizes the fresh green of the green to close to the image.
Highlights expression of stickiness in the highlight controller that you can restore whiteout

The RAW data may still have information of even color and gradation in the whiteout portions. The highlight controller can restore the color and gradation from this whiteout portions, and you can extend the dynamic range. This is a useful function in large luminance difference and the case that highlight easily happens whiteout.
This feature applies only to highlight, there is no effect on the exposure.
Correct the aberration of lens such as distortion or vignetting

It is obtained function to correct the aberration of lens. Followings are correctable three type of aberrations.
Distortion control
It can correct the aberration of lens such as barrel and pincushion type.
Shading control
It can correct the light falloff at edges of the photo. Conversely, it can also be used as the effect of darkening the amount of light around.
Chromatic aberration control
It can correct the red or green outline by the color shift seen in the periphery, such as a wide-angle lens.
Rotation and digital shift

It can correct the horizontal and vertical slope at the time of shooting. In addition, by the digital shift you can adjust the perspective due to the lens, as captured by the shift lens. You can get a shift effect in all of the lenses such as ultra-wide-angle lens.